Biography of Maria Caterina Mariano in arte Mari'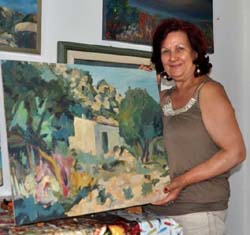 She was born in Olbia where he lives and works.
At the beginning of her career as a painter he attended the school of painting by Gesuino Rassu in Olbia.
Founder and President of the Artemisia International Gallery, an artistic association working locally and nationally.
The evaluation of her works was made by Dr. Lucia Bonaccini, creator of image and rapporteur artistic, and by Dr. Giancarlo ALU ', World President "art and culture" in Rome.
She has received numerous awards at the level national: the artistic attestation for painting at the Biennale città di Roma Jubilaeum 2001, taking the first prize with the picture "I Cavalli".
She is exhibiting for merit at the Mentana National Museum in Rome. He attended the "Leonardo da Vinci Terzo Millennio nel 2000" Biennial of Contemporary Art, retiring the first prize with the picture "La Maschera".
The Opera is now exhibited at the academy "International Art Academy" of Rome university of fine art "Free Academy of Fine Arts.
At the local level she exhibited at the Simpliciana Municipal Library in Olbia in a collective exhibition directed by Gesuino Rassu in 2001.
The local press has reserved beautiful pages dedicated to the news of the prizes received for her creativity and originality.
Critical review of Giancarlo Alu'
In un recente scritto, Maurizio Calvesi, a proposito di "realismo" e "naturalismo" nell'Arte, cosi' mirabilmente propone le definizioni:......"Il realismo implica la riproduzione del reale, il naturalismo può risolversi in una evocazione del naturale: dei colori e della luce della natura, o di quel pulsare di vita come in un grembo che è il suo principio.".....
La pittura di Maria Caterina Mariano si puo' porre in un contesto direi post impressionista del filone di Carlo Carrà, di Arturo Tosi e di Filippo de Pisis.
Dunque di un naturalismo purissimo, "pulsante di vita come in un gremo che è il suo principio".... con un maggior pregio della freschezza e vitalità della sua sensibilità femminile e della sua natura rigogliosa e fremente di isolana.
Sicuramente, con Maria Caterina Mariano siamo di fronte ad un talento non comune, ad un' Artista vera, limpida, emotivamente vitale come solo i grandi Maestri possono esserlo.
L'uso del colore, che è poi strumento di creatività, è l'elemento portante di questa evoluzione di tonalità e vibrazioni.
La materia pittorica travalica i canoni utilitari per divenire sostanza plastica, quasi spatolata, con feelings che vanno da Cezanne alla maniera "macchiaiola" di Fattori.
Eppure, la Mariano è un' Artista assolutamente indipendente, le emozioni che suscitano le sue Opere, i messaggi che essi mandano sono nuovi e innovatori....
...Auspico che Maria Caterina Mariano persegua nella sua opera creatice con la stessa immediatezza e spontaneità con le quali ha creato Arte al massimo livello, evento abbastanza raro in questi tempi.
Sicuramente è meritevole di un piu' attento esame ed esibizione ad un pubblico di collezionisti ad un alto livello anche in campo internazionale.