Sterzi Gabriella
Sterzi Gabriella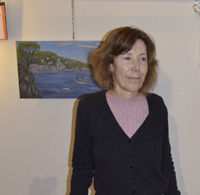 Gabriella Sterzi was born in Rome in 1958. After completing High School, she attended the University La Sapienza of Rome, majoring in Psychology. Upon completing her University Degree in Rome, she moved to New York, where she attended The Graduate School and University Center of the City University of New York. She studied and lived in New York for six years, obtaining her Ph.D. in Social Psychology in 1988.
Upon returning in Rome, because of her keen interest in drawing and painting, she attends Illustration courses at Istituto Europeo di Design in the years 1994-96, Graphics courses at Istituto Pantheon in the years 1996-98, classes in Life Drawing at Scuola Libera del Nudo of Accademia di Belle Arti of Rome (1999-2000), and Oil Painting classes at Scuola di Arti Ornamentali di via di S. Giacomo, Rome, in the years 2000-2003. In the years 2009-2011 she attends classes in Life Drawing at Upter in Rome. From 2012 to 2019 she attends Portrait and Live Model Painting at The Painting and Drawing Art Studio of Rome with painter Timothy Allen. In the year 2019-20 she attends classes in Oil Painting at Accademia Urbana delle Arti taught by Rodolfo Papa. In the year 2021-21 she attends Life Drawing classes at Il Doppio Creativo of painter Cristina Sozio. In the year 2021-22 she attends Life Drawing classes with artist Antonio Finelli.
She has also attended Summer School Art classes at the Slade School of Fine Art, University College London (2006); London School of Painting and Drawing (2007); Lavender Hill Studios, London (2008); Prince's Drawing School, London (2008-2012); Angel Academy of Florence (2008).
Gabriella Sterzi resides in Rome, where she paints and works as primary school teacher.
You can send Gabriella Sterzi a message using the contact form