Rebelo Luis
Rebelo Luis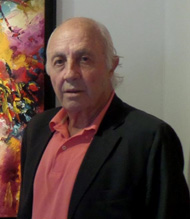 Luís Rebelo, who goes simply by the artistic name of Rebelo, was born in Angola. In 1957 he settled in Coimbra (Portugal) where he obtained his medical degree, specializing in the field of cardiology. He is now retired and currently resides in the city of Porto, Portugal.
Motivated by the renowned artist Pedro Olayo and encouraged by art critics he decided to try his luck in the art world in 1998. After several group exhibitions he presented his first solo exhibition in 2000, the reviews of the illustrious Dr. Manuel Bontempo being fundamental in achieving his commitment to painting.
Mr. Rebelo has participated in over 130 group exhibitions within and beyond Portugal (France, Spain, Belgium, Italy, the Netherlands, Austria, Romania. Vatican, United States of America and Croatia) and has carried out 18 solo exhibits. In December 2013 he participated in a group exhibition in honor of Pope Francis at St. Paolo Basilica in Rome.
He is referred in the book of international contemporary art State of the Art- Artist´s Book Vol. II, 2014, published by Galeria Aberta/ Portugal.
He is represented in various private collections and institutions within Portugal and abroad.
Member of Galeria Aberta- Association for Artists/ Carcavelos, Portugal
Member of Forum of Visual Arts Association/ Coimbra, Portugal
AWARDS:
Médaille du Salon – 6ème Salon International de Peinture et Sculpture de Nantes /France -2006.
Diplome D`Honneur pour lènsemble de son oeuvre – 1º ier Salon de Peinture et Sculpture des Artistes de Loire- Atlatique / France - 2006.
1st International Painting Prize – 2ª Exposição Internacional de Artes e Letras do Coninter/Estoril/ Portugal - 2014.
Bronze Medal- 2° Salão Internacional de Arte de Bolso de Setúbal, organized by Artiset and Galeria Aberta - Setúbal/ Portugal - 2014.
Visual Arts Merit Prize awarded by the President of the International Council of Sciences, Literature and Arts, Rio de Janeiro/ Brazil, 10 June 2014.
Appointed Academic Member of the International Council of Sciences, Literature and Arts, Rio de Janeiro, 12 January 2014.
REVIEWS:
...the technique, the lightness, the depth and extent characterize Rebelo in the revelation of beauty.
Manuel Bontempo in "O Despertar", 15 October 2000
...Rebelo, in he firmness of his stroke and the manifestation of his ego, leads the readers of his painting through paths of the imagination and nooks of beauty and fruition. An artist who is rising on the horizon of success, a painter of a new wave who will surely leave his mark on the world of art in Coimbra...
Mário Nunes, in "Diário de Coimbra" -27 January 2002
...Vigorous. His painting contains the spirit of biology, it is alive, it moves, it integrates itself, it is restless. The spatula presents us with moments of enchantment and leads us to a different perception of cities, farmlands, of culture, of turning old into new, theorizing the painting- stirred, lived, loved, and even hated; a living being in a fantastic formalism of motion.
Manuel Bontempo, in "O Despertar", 9 January 2009
Master of a technique which totally and freely dominates from impressionism to surrealism according to thethemes and movements of action and of passion, this doctor does stop for a single moment as if the inspiration were, above all, the narrative autobiography.
Manuel Bontempo, in "O Despertar", 28 February 2014
Portfólio:
www.artintheworld.net/drupal/category/artists/painters/rebelo-luis
www.facebook.com/luis.rebelo.14