Olasz Attila
Olasz Attila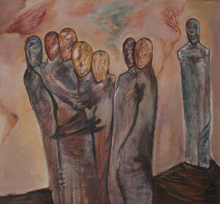 I was born in 1982 in Szeged. My first individual exhibition was open by my master Ferenc Pataki in Szeged in 1998. I organized my first individual exhibition in Budapest in 2003 in FISE Gallery.
I got my degree at the University of Szeged in 2004, I wrote my thesis on painter Francis Bacon. I was admitted to the painter programme of the Art Department at the University of Pécs. In the autumn of 2004 I could display in the prestigious Club Galery of Újlipótváros in Budapest. In 2005 I was invited by János Kass to exhibit in Kass Gallery in Szeged where I presented the series of Bodyparts formations.
I graduated as an artist in 2009.
I organized forty individual exhibitions.
In 2012 I was featured in the Vienna Travel Gallery with my works. In the summer of 2017, one of my works was selected at the Artexpo Summer Rome International Exhibition at the Domus Romana Gallery in the historic center of Rome. In January 2018, my painting was selected to Artexpo Winter Rome International Exhibition. In March of this year, I took part in international exhibition held in Porto, Portugal. In June 2018 I was presenting the painting of Caraviggio's heritage, at the Artexpo Summer Rome 2018 International Exhibition at the Domus Romana Gallery at the center of Rome.
In March 2019, six of my paintings were exhibited at the Clio Art Fair in New York.
In 2019 my works were exhibited in Rome, Genoa, Naples, Venice and London.
I am a member of The Association of Hungarian Creative Artists and the Society of Hungarian Painters.
In the summer of 2018 I was awarded a media graphic design diploma at Budapest Metropolitan University.
Website
http://www.olaszattila.hu
You can send to Attila Olasz a message using the contact form