Anopova Valentina
Anopova Valentina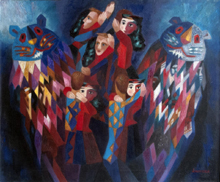 Saint-Petersburg, Russia
Honorable Artist of Russia
Academian of the Academy of Sciences and Arts named after Peter I.
Laureate of the International Roerich Award (2008)
Born in Leningrad, USSR.
Education: 1960-1966 - the Industrial Arts Institute named after Mukhina, department of Monumental and Decorative Arts (Leningrad.)
Since 1972 - a member of the Union of Artists of Russia.
1992 – member of International Association of contemporary mosaicists (Italy).
1998 – member of the International Association of art critics.
1998 - member of St.Petersburg Association of watercolour.
Took part in more than 550 exhibitions in Russia and abroad (Belgium, Great Britain, Holland, Bosnia and Herzegovina, India, Italy, China, Macedonia, Mexico, Poland, Portugal, Norway, the USA, Finland, France)
66 solo exhibitions in St. Petersburg, Moscow, Delhi, Bombay, Helsinki, Paris, San Francisco, New-York, Philadelphia, London, Shanghai, Slavno, Konsk, Astrahan, Athens, Pskov, Johannesburg, Tobolsk, Vologda, Jeju.
Anopova works in the technique of mosaic, mural art, drawing, etching, oil painting, stained glass. Made great mosaic works for the buildings offices in St. Petersburg (Russia), Liepaja (Latvija), Bobruisk (Belorussia).
Awards: The first prize of the State Committee of Construction of the Russian Federation; Certificate of Honor of Leningrad City Council for major contribution in the field of arts, State Medal "Labour Heroism" for Archievements in the Arts. Laureate of the exhibition of new works of St.Petersburg artists; Laureate of the International biennale of etchings (St.Petersburg); Diploma of the Museum of Contemporary Art (France), The First Prize in the painting competition (the USA), Diploma of the competition "The window on the Netherlands", Diploma of National watercolour museum (Mexico), Silver Medal of the Fine Arts International exhibition (Ukraine), Diploma of the 72nd International exhibition in Nancy (France), Diplomas of the International exhibition of etchings (Romania), A prize in the V International festival of etching "Personal exhibition" (Evora, Portugal), The Second Prize in Competition monument Saint Niklas in St. Petersburg. Diploma of Union Artist Russia, Laureate of XVI International festival Arts "Master-Class" (painting), honorary title – "Master". St.Petersburg, Honorable Diploma of Art Exlibris and Graphik IV All-Russian Congress in Vologda, Laureat of International project dedicated to Sergey Radonejskiy, Premio Quadriennale della Lupa Capitolina assegnando il 1 Premio per l'arte post cubista (Alessandria, 2019, Accademia Santa Sara).

Her works are in the following collections: The State Tretiakov Gallery (Moscow); The Administration of exhibitions (Moscow); Museum of Isaac's Cathedral (St. Petersburg); The Museum of A.Akhmatova (St. Petersburg); The Russian State Library (Moscow); the collection of the International Federation of Artists (Moscow); The Art Gallery of the Vologda region (Russia); The State Museum of Pskov; The State Museum of Astrahan named after Dogadin; The State Museum named after Kroshitskiy; The Museum of Contemporary Art (Chamalieres, France); The Museum of Baron Gerard (Bayeux, France); Stedelijke Museum (Sint-Niklaas, Belgium); The Uilenspiegal Museum (Damme, Belgium); The International Ex-Libris Arts Salon (Beijing. China); The Art Gallery of Qingdao (China); The State Museum of Graphic Art (Bruneck, Italy), The Museum of Arts (Pracjov, Rumania); The Museum of the city of Ostrov Velikopolsky (Poland); the collection of the Gallery of Graphics (Varna, Bulgaria); the art collection in the city of Evora (Portugal); the museum of Sremsk (Serbia); the art collection of the city of Khavirov (the Czech Republic); the museum of etchings in the city of Aqua Terma-Ovada (Italy); the museum of the cultural center "Maus Ketti" (Luxemburg); the municipal library of the city of Lomazzo (Italy); the public library of Glivis (Poland), and in private collections in Russia, England, Holland, Italy, Latvija, the USA, France, Finland, Poland, China, India, Japan.

Principal bibliography:
Popova L. "Anopova Valentina" ALLEGEMEINES. KUNSTLER-LEXIKON. Die Bildenden Kunstler aller Zeiten und Volker. Band 4. K. G. Saur. Munchen, Leipzig, 1992, p. 173.
Igor Myamlin "Valentina Anopova". Encyclopedia Bio-bibliografical of the Art of the Contemporary Ex-libris. The volume XX. Published in 1997 by Artur Mario da Moto Miranda. Portugal. P. 7-18 (10 illustrated).
Gumnitzky L.B. "Expresiveness of Stone Monumental Composition of Anopova". Leningradskaya Panorama, 1982, v.10, p.20-22.
STATE TRETYAKOV GALLERY. Catalogue of the COLLECTION DRAWINGS of the 20 th CENTURY, series DRAWINGS of the18th to 20th centuries. Volume 3, Book one. Letters A. B. V, Scanrus Publishers MOSCOW 2006 (ANOPOVA V. Page 147)



You can send to Valentina Anopova a message using the contact form