Newton Adora
Newton Adora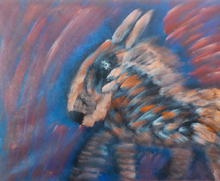 I was born in Austria and started painting in 2012.
My permanent Exhibitions are worldwide.
I love to bring my Feelings into my Paintings.
Painting is my Passion and makes me happy.
My inspiration is to express myself and immerse others in my artistic world.
I taught myself various techniques and
I love to try new techniques.
https://www.youtube.com/watch?v=Otz_IzamkUo
https://www.facebook.com/VanessaNewtonn/