Riccieri Sara
Riccieri Sara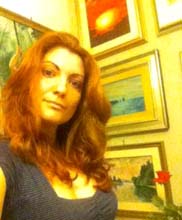 Sara, a private drawing teacher, has exhibited in several art galleries in the center of Rome since 2000. He participates in international competitions including: "Imperceptible celestial forms", via del corso Roma, and "Spirit of Christmas" for "artist in the world" at the Domus Romana, via Nazionale in Rome, Celeste Prize, and others. In 2003 at the Capitol for the Municipality of Rome he exhibited for a Presentation of a book of fairy tales of 19th century Florence. From 3 September to 4 October 2015 he exhibits at Villa Lampedusa with a painting dedicated to the "Terra Madre" for the INCONTEMPORARY art exhibition for the Municipality of Palermo under the supervision of important critics in the sector. Subsequently he exhibited in Rome at 94 Tele, and at the Hotel Domus Romana. He actively participates in group shows in Italy, via Margutta, and in the world, Paris and New York. Pictorial works divided by different thematic arias: 1995 Naturalistic landscapes series: "Tunisia" 1996 Great Artwork reproduction series: "Angel" Raphael 1997: "Along the river" 2004: Sicilian landscapes series: "Mascali upon awakening"; 2008: Film Music Series: "Horizons"; "Sunset on the sea" ; " The kiss"; "Trilogy"; "Andromeda, Pegaso, Cassiopea" (work created for the soundtracks of the composer Gabriele Tosi)
Exhibitions, group shows and competitions:
2009:
Emotions series:
"Sunset in Montefiascone"
2010:
Emotions series:
"Torments of the soul";
2011:
Series of nature elements:
"The water cycle" Acea competition for Rome;
2012:
commissioned works:
"The Triumph of Bacchus" by Pietro da Cortona.
(artistic painting made on 30s windows, work designed and created on commission).
2013:
Roman Views Series:
"From the Minerva of Rome, view of the Pantheon and Sant'Ivo alla Sapienza";
Marches Landscapes Series:
"Fantasie di Ancona";
Emotions series:
"Dance with art";
Greek Landscapes series and detail:
"Santorini";
"Points of view: the non-perspective view of things";
2014:
Tuscan Landscapes Series:
"Field of sunflowers"; "Lily island";
2015:
Greek Landscapes and Details Series:
"Ancient Greece",
Holy Land landscapes series:
"The colors of the desert",
Emotions and Cinema Series:
"Passion", "vamp";
Sicilian landscapes series:
"The tree of life: mother earth" competition in the Villa Comunale in Palermo;
2016
Intimate Stories Series:
"La Famiglia" participates in New York; "With tenderness"; "maternity";
2017
Chromatic strokes series: "Inside the sun"; Sicilian Landscapes Series; "The tree of life: between earth and sky" (experiment of material painting)
2018
Series Elements of Nature: "Wind"; "Sun"; "nymph";
2019
Emotions series: - "Il Doppio Pierrot" Carnival of Viareggio competition where it wins the 2nd prize as original work "; - "At the 94 canvas in Rome, he exhibits" Inside the soul ", a tribute to Afghan women and those who have been victims of violence; Therapy applied to Art: Sara, in December of the same year exhibited at 94 Tele, in Rome, her first work of importance and therapeutic-social importance in the works "the 7 Souls" and "The protection of the Angel", the Artist, uses art therapy, for recreational and curative purposes. To date, Sara boasts art workshops for all levels. With "The protection of the Angel", donated to the friend artist Emiliano Esposto, Sara carries out an accurate study on chromatism and its vital energy. in February 2020 At Artist in the world, before the covid-19 pandemic, Sara exhibits "Revolutiòn-colori in movimento", Abstract futurist, with a socio-political theme. Already an award-winning work in Paris and New York.
You can send to Sara Riccieri a message using the contact form