Székely Aranka
Székely Aranka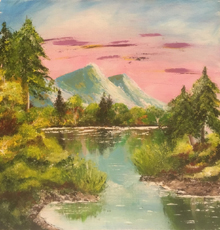 She was born in 1966 in Transylvania,Romania.
Having graduated from the University of Medicine and Pharmacy in Targu Mures she relocated to Hungary.
She is a doctor by profession and a self-taught artist by her passion and creative mind.
She currently runs her private medical practice in Alsozsolca and Miskolc,Hungary.
Aranka had a very inquisitive,imaginative and innovative mind as a child.
She experimented with a number of creative craft techniques and after trying her hand on many such creative pursuits,she came across an online tutorial teaching painting,which kindle her interest in fine arts.
Ever since painting has become her life, giving her unfathomable joy and relieving the every-day stresses.
Her works do not follow any particular genre nor can be slotted into any isms.
She tried her hand in different styles of painting from realistic to abstract.
She enjoys working with colours, that gives her great joy and possibility to express her feelings on a canvas.
It's the sheer joy of working towards creating an art piece that is rejuvenating and gratification enough for her.
Aranka's colour palette is very vivid and at the same time very feminine.
Her paintings carry in them the imagery of springs,blossoms and everything happy.
She is able to infuse these scenes of nature and foliage like a lyrical poem.
Pastel,oil pastel,acrylic and watercolours are some mediums she takes delight in working with.
She has had a few of exhibition in Hungary and Crotia in last 2 years since she has been painting.
You can send to Aranka Székely a message using the contact form