Székely Aranka
Székely Aranka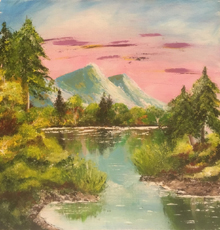 Dr. Aranka Székely was born in 1966 in Transylvania, Romania. Having graduated from the University of Medicine and Pharmacy, she relocated to Hungary. Aranka is a doctor by profession and an artist by her passion and creative mind. She currently runs her private medical practice in Alsózsolca and Miskolc, Hungary.
As a self-taught artist she She tried her hand in different styles of painting from realistic to abstract using pastels, acrylic and watercolours. Aranka's color palette is very vivid and at the same time very feminine. On the sheet of paper the spots of colour create atmospheric vibrations and chromatic reflections given by pure and fresh colours.Aranka has participated to a lot of solo and group international exhibitions and has been awarded many times with international prizes .Her masterpieces are displayed in many art magazines and yearbooks. Art gives her a huge joy and helps her coping with everyday stress.
Exhibitions:
Budapest(2020,2021)
Zagreb(2018)
Miskolc(2018,2020,2021,2022)
Alsózsolca(2019)
Rome(2019,2020,2021)
Caldogno(2020)
Florence(2020,2021)
Zürich(2020,2021)
Milano(2021)
Barcelona(2021)
Palermo(2021,2022)
Varazze(2021)
New York(2021)
Diamante(2021)
Venice(2020,2021)
Basel(2021)
Fuerteventura(2021)
Lisboa(2022)
Instagram: #arankaszekely
websites:
https://www.ateliernataliagromicho.com/arankaszekely
https://circle-arts.com/ari-szekely/
https://www.artsy.net/artist/dr-dot-szekely-aranka
https://www.artsy.net/artist/dr-dot-szekely-aranka/works-for-sale
https://www.artintheworld.net
https://www.facebook.com/aranka.szekely.5
https://bruxellesartvue.com/?file=Ebook-BAV5.pdf&nonce=179749a5237aa3e4d...
https://circle-arts.com/spotlight-26/
https://wwab.us/wwa-magazine-6
https://arteoltretempo.wixsite.com/arteoltreconfini/aranka-szekely-1
Awards:
Art Selection Museum,2019(Italy)
International Prize "Giotto",2019(Italy)
International Prize"Leonardo da Vinci",2020(Italy)
50 Artists to invest in,(2020, 2021 Italy)
Fiestalonia,III.Prize(Spain, 2020)
Fiestalonia I Prize (Spain,2021)
International Prize"Artist of the year 2020"(Italy)
International Prize"Raffaello § Canova"(Italy)
International Prize" David –Michelangelo"(Italy,2021)
International Prize"The best 2021 Modern and Contemporary Artists"(Italy)
International Prize " Dante Alighieri" 2021(Italy)
International Prize"Ambassador of Art 2021"(Italy)
International Prize"50 Artists to invest in"2021(Italy)
International Prize "Art Palermo 1.st International Biennal"2021(Italy)
International "Art Olympic Prize" 2021(Italy)
Premio Dante Alighieri,Roma 2021
International Prize Leonardo da Vinci, 2022(Italy)
Publications:
Art Book 2019 and vol.2.:2020- edited by artfreaksglobal (India and Canada), many Art International Contemporary Magazine (Italy,2019-2022), , Artisti ' (2020 ,Italy), Artisti (2021,Italy)
Art Universal,the great encyclopedia of international art,2020 and 2021 ( Italy)," 50 Artists to invest in"2020 and 2021 (Italy)
I Segnalati 2020 and 2021(Italy),The best 2021 Modern and Contemporary Artists (Italy)
Artists of Today and Tomorrow2 (2021,Italy)
Enciclopedia dei contemporanei dell'Arte, (2022,Italy)
Bruxelles Art Vue, power of color (2021, Bruxelles)
You can send to Aranka Székely a message using the contact form