Van Deursen Riky
Van Deursen Riky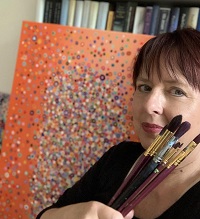 Self taught, Dutch based artist.
Painting for me is a journey in which my feelings and the exploration of various techniques are the key elements.
My style moves between abstract to abstract impressionism.
By painting I can let go of everyday things and I come back to myself.
My intuitive abstract works are showing my experience: sometimes exuberant with lots of color and movement, sometimes subdued with soft colors and soft shapes.
My inspiration comes from everyday things like images of a city, nature, a picture in a magazine, something I see on television, a thought, music, a work of art, a conversation.
Besides painting, I developed a passion for photography, which teaches me above all to look consciously and with a different look at things.
You can send to Riky Van Deursen a message using the contact form