Biography of Franco Zingaretti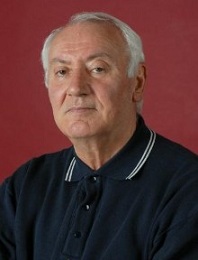 Zingaretti Franco was born in Fabriano, where he lives and works.
Master of Art, has in his artistic career, consistently expressed a deep bond with the city's history through his works.
He used the suggestion of "symbols and trademarks" born in the workshops of the ancient Masters Cartai to build an agile, modern visual language, using sheets of paper made by hand according to the ancient tradition of the thirteenth century. Zingaretti has worked many years at Cartiere Miliani Fabriano, ten of which were spent in the department watermarks as "designer filigree."
In his paintings Zingaretti interweaves with the use of mixed media and river sand graphic forms in relief, artist books, paintings, sculptures in total freedom.
It also uses other materials such as canvas, wood, steel for the construction of installations and settings that allow you to engage directly and fully the sensitivity and intelligence of the beholder.
In his artistic using the graphic medium he tried to retrace the history since the ancestral graffiti Palaeolithic, up to the modern way of communicating through the internet nowadays.
Participates since 1974 successfully in numerous solo and group exhibitions in Italy and abroad: Austria, Croatia, France, Germany, Great Britain, Island of Malta, Israel, Libya, Slovenia, Switzerland, United Arab Emirates, Taipei, Taiwan, USA
Its news are located in the following newspapers: The Republic, II Corriere della Sera, L'Osservatore Romano, II Resto del Carlino, Morning of Naples II, II Corriere Adriatico, The Journal of Ferrara, La Nuova Ferrara, II Messaggero, II Time Molise , the Times (edition for the island of Malta), Novi List (Rijeka - Croatia), the Herald of Naples, II Giornale di Ostia (Rome coastline), Ancona Province, Action, Progress II and others.
And on the following journals: Flash Art, Arte e Critica, Segno, Titolo, Juliet, Bolaffi Arte, Roma di Scena, Un Anno d'Arte (Fabbri Editori), Questarte, Next, Arte più Arte Milano, Arte Mondadori, Eco d'Arte Moderna, Le Marche e il XX secolo Atlante degli Artisti (a cura di A. Ginesi - testi di M. Apa, G. Bassotti, L. Del Gobbo, A. Filonzi, A. Ginesi, G. Tinti), Type (Fabriano).
Solo Exhibitions
1976
- "Pittore della memoria", Galleria Alba, Ferrara
1979
- "Un realismo quasi metafisico", Galleria Verrocchio 2, Pescara
1980
- "Mini personale, Gruppo Artisti A. Zeta", Pompei (NA)
- "Spettacoli estivi, Mostre d'Arte, Isola di Krk", 2 Mostre personali, Narodna C.
1982
- "Città di Krk" - "Hotelski Grad Haludovo", Città di Malinska, Croazia
- "Galleria Le Firme", Milano
- "Centro Culturale Arcobaleno di Milano - Kanatole Club", Gallio (TN)
1984
- "Cooperativa Presenza Arte e Cultura Basso Ferrarese", Cornacchie (FE)
- "Prima Mostra della Ceramica": 10 ricostruzioni grafico - pittoriche sulla ceramica fabrianese del
XVI secolo, su carta a mano Fabriano, in collaborazione con Archeoclub d'Italia, Sezione di Fabriano,
Museo della Carta e della Filigrana, Fabriano (AN)
1985
- "Azienda Autonoma di Soggiorno", Montecatini Terme
- "Galleria del Vicolo Quartirolo", Bologna
- "Opere recenti", Galleria il Canovaccio - Studio del Canova, Roma
1987
- "Stefano Troiani. Uomo, tecnica, società", Associazione Marchigiana Iniziative Artistiche, Galleria
d'Arte Puccini
1988
- "Opere recenti", Libreria Draghi Randi, Saletta degli Incontri, Padova
1991
- "Il pensiero - l'immagine", Galleria Linea Punto 18, Comacchio (FE)
- "ArchetipaAstrazione", Centro Espositivo Campo d'Osservazione A.I.C.S., 1991- 92, Gubbio, Pg
1992
- "L'imponderabile Leggerezza della Fascinazione", Teatro Civico, Sassari/Museo Alternativo
Remo Brindisi, Lido Di Spina (FE)
1993
- "Un percorso lineare", Civica Pinacoteca, Macerata
1997
- "Percorsi Biologici", Centro Culturale B. Brecht, Milano
- "Tutti Insieme Spensieratamente", Giacobbe Spazio, Milano - Bertrand Kass, Innsbruck
(Austria), Antonio Battaglia, Milano
2000
- "Ricerche Materiche - Omaggio alla Carta", Cias, Cesma Centro Studi Marche, Roma
2001
- "Ricerche Materiche - Omaggio alla Carta", Caffè Storico Letterario Giubbe Rosse, Firenze
2002
- "IdealArte", Caffè Ideale, Fabriano (AN)
2004
- "20 opere su Carta a Mano Fabriano", Chiostro di S. Nicola,Tolentino (MC)
2006
- "13 opere su Carta a Mano Fabriano", 2006, Scoletta dei Calegheri, Comune di Venezia
2008
- "L'Uomo e la sua Storia infinita", Chiesa degli Artisti, Piazza del Popolo, Roma
- "L'Uomo e la sua Storia Infinita", Museo della Carta e della Filigrana, Fabriano (AN)
- DVD a cura di Angelo Rossi, in occasione della Mostra personale "L'Uomo e la sua Storia Infinita", Fabriano (AN), (RAI3 Regione Marche)
2009
- "Artifici Liberi", Galleria Antichi Forni, Macerata
- "Giochi Liberi", Monastero Monaci Benedettini Silvetrini, Matelica (MC)
2010
- "La ricerca del segno", Sala convegni Palazzo Oliva, Sassoferrato
- "Forme", Convegno di studi pirandelliani, Palacongressi, Villaggio Mosè, Agrigento
- "Forme", Galleria d'Arte F. Barocci, Collegio Raffaello, Urbino Arte
- "Forme", Comune di Comiso, Sala convegni comunale
- "Segno", Comune di Sassoferrato, Sala convegni Palazzo Oliva
2012
- Mostra Antologica "Reazioni Cosmiche - la carta l'origine e l'Immaginario - 40 anni di Carriera", Comune di Fabriano, Assessorato alla Cultura, Complesso Espositivo S. Benedetto, Fabriano (An)
2013
- "Due Artisti a Confronto Franco Zingaretti e Claudio Schiavoni", Mostra Itinerante: Galleria della Fondazione Cassa di Risparmio Fabriano e Cupramontana, Fabriano (An) - Galleria Adriana Sartori, Mantova.
Group Exhibitions
1972
- Mostra mercato del piccolo formato, Galleria d'arte "Etolia"- Castellaneta (TA)
1974
- I Quadriennale Europea d'arte contemporanea, Sede della communautè europeene des
Journalistes, Roma
1982
- "Pittura e scultura europea", Palazzo dei Congressi, Roma Eur
1987
- "Delle Marche. Una ricognizione artistica nel territorio",Teatro delle Muse, Ancona
1996
- "Divinacroce", Cattedrale Basilica di S. Venanzio, Fabriano (AN)
1997
- "Omaggio a Guelfo", Chiesa di S. Maria in Montesanto, Roma
- "900 colori al 2000", Centro Internazionale Pace tra i Popoli, Assisi (PG) - Sede Nazioni Unite,
New York
1998
- "Una piccola pietra esagonale con disegni per la pace", Campo d'Osservazione A.I.C.S.,
Gubbio (PG), Tel Aviv (Israele)
- "Anniversario del centenario degli italo americani, la grande mela", Dorai Couat, Manhattan, New
York
2000
- "Collage 2000", The Sharjah Arts Museum, (15000 artisti da tutto il mondo), Sharjah, United
Arab Emirates
2001
- "The 10th International Biennial Print and Drawing Exhibition R.O. C.", Taipei Fine Arts Museum,
Taipei, Taiwan R.O.C.
- "i.World Festival of Art on Paper", Festivalna Dvorana Bled, (72 nazioni partecipanti) Direttore Stane Zerko, Hotel Vila Bled, Golf Hotel Bled, Ljubljana (Slovenia)
- "II Pianeta Carta nel Terzo Millennio", Museo delle Arti e Tradizioni Popolari, Roma
2002
- "Museo Permanente di Arte Grafica Contemporanea Italiana - Patrimonio dello Stato Italiano", Bengasi (Libia)
2003
- 50 biennale di Venezia, Libro d'Artista "Il viaggio della carta dalla Cina a Fabriano", Wandering
Library, Museo internazionale degli artisti, Venezia
2005
- "Tracarte", Opere su carta, Museo Civico di Foggia
2007
- "Contemporary Christian Art", The Mdina Cathedral Museum, Malta
2008
- "Eros eThanatos", Urbino Arte, Collegio Raffaello, Urbino
- "TendenzArt (I.E.D.A.)", Centro San Carlo al Corso, Via del Corso, Roma
2009
- "La luna e i falò - Omaggio a Cesare Pavese", Urbania/Torino
2010 - 2011
- "Actus Estendi", Collegio Raffaello, Urbino.
2010 - 2011 - 2012 - 2013 - 2014
- "Rassegna Internazionale - Premio G.B. Salvi", Sassoferrato (An)
2010
- "Confront/Art", Chiesa degli Artisti, Piazza del Popolo, Roma
- "Sulle orme di P. Matteo Ricci, InOpera 2010" sul trattato dell'Amicizia - Piazza Buonaccorsi, Macerata
2011
- G.B. Salvi "La vertigine della visione, Marche visionarie e plurali: exempla", Palazzo della Pretura,
Sassoferrato (AN)
- "Omaggio dell'Arte alla libertà di espressione", Ordine dei giornalisti delle Marche - mostra
itinerante
- "Sopraffactions", Fabriano, Pinacoteca B. Molajoli • Cosenza, Palazzo Arnone • Salerno, Palazzo
Ruggè d'Aragona
- "Omaggio al Magnifico Rettore dell'Università di Urbino, Carlo Bo", Associazione Urbino Arte Cultura e Conoscenza, Urbino
- "Tracarte, quasi per gioco", Rassegna internazionale su carta, Foggia, Fabriano (An)
2012
- "L'Utopia della città", Collegio Raffaello, Urbino e Nuova Galleria delle Arti, Fabriano
- "Mini libro d'artista mostra internazionale", Alzaia Naviglio Grande, Milano
- "Cento libri di Gala, il viaggio racconto unico pittorico poetico", II Esposizione del libro d'artista,
Macerata
- "Fabriano un foglio di carta lungo il Nilo", Pinacoteca B. Molajoli, Fabriano - Istituto di Cultura
Egiziana a Roma - Istituto di Cultura Italiana al Cairo - Ospedale 57357 de Il Cairo
- "XIX Concorso di scultura-Premio internazionale Edgardo Mannucci", Rotary Club - Altavallesina, Grotte di Frasassi, Arcevia (An)
2013 - 2014
- "Immaginazione-Creatività, Giro in giro in tre tappe dell'Arte contemporanea", Esposizioni: Mostre Garage, Milano - Spazio Lambrate, Milano
2013
- "Sulle orme di Padre Matteo Ricci - l'Amicizia", Palazzo Buonaccorsi, Macerata
2014
- "Biennale internazionale di Torino", Arte Città Amica, Torino