Biography of Carmelo Viglianisi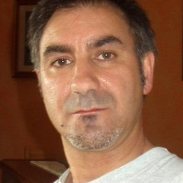 Caramel Viglianisi, born in Italy in Reggio Calabria in 1964. Painter, Sculptor and Designer.
Graduated from the Academy of Fine Arts of Reggio Calabria, is completely dedicated to figurative painting in oils, his art is so close to the details of the tradition, the figurative and clarity of composition, as well as those of contemporary, related to the investigation of new forms, new viewpoints, new color combinations and shapes.
CURRICULUM
2010
- GROUP EXHIBITION 1° Biennale d'arte creativa di Viterbo
- GROUP EXHIBITION "Cromaticos" Castello Estense di Ferrara
2009
- GROUP EXHIBITION "Palazzo San Michele" – Rome
2008
- GROUP EXHIBITION "Morte e Rinascita" – Calcata (VT)
- GROUP EXHIBITION Affreschi ed Affrescatori – Mediterraneo: terre e popoli – Assisi (PG)
- GROUP EXHIBITION (sistemi riproduttivi e sessualità tra natura e cultura: the heart never grows old…) Palazzo Baronale, Calcata (VT)
- GROUP EXHIBITION (morte e rinascita) Palazzo Baronale – Calcata (VT)
2005
- GROUP EXHIBITION Fiera di Roma
2003
- GROUP EXHIBITION "La Divina Commedia" in Palombara Sabina (RM)
1997
- PERSONAL EXHIBITION in Reggio Calabria
1995
- Painting competition (Il Minatore ) Motta San Giovanni (RC)
1992
- First at painting competition in Lazzaro (RC)
1990
- Scenography (Sei personaggi in cerca d'autore) in Reggio Calabria
1987
- Organize an exhibition of live painting, and GROUP EXHIBITION in Reggio Calabria