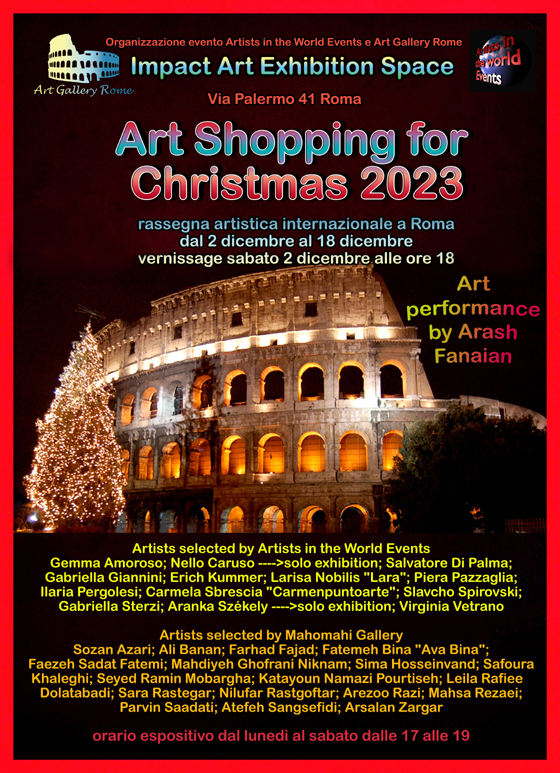 Artists selected by Artists in the World Events
Gemma Amoroso; Nello Caruso ---->solo exhibition; Salvatore Di Palma; Gabriella Giannini; Erich Kummer; Larisa Nobilis "Lara"; Piera Pazzaglia; Ilaria Pergolesi; Carmela Sbrescia "Carmenpuntoarte"; Slavcho Spirovski; Gabriella Sterzi; Aranka Székely ---->solo exhibition; Virginia Vetrano

Artists selected by Mahomahi Gallery
Sozan Azari; Ali Banan; Farhad Fajad; Fatemeh Bina "Ava Bina"; Faezeh Sadat Fatemi; Mahdiyeh Ghofrani Niknam; Sima Hosseinvand; Safoura Khaleghi; Seyed Ramin Mobargha; Katayoun Namazi Pourtiseh; Leila Rafiee Dolatabadi; Sara Rastegar; Nilufar Rastgoftar; Arezoo Razi; Mahsa Rezaei; Parvin Saadati; Atefeh Sangsefidi; Arsalan Zargar

Art performance by Arash Fanaian
"Distillation" is concerning and respecting to "talking about secrets".

How can we tell somebody our secret and our secret still remain a "secret"?!
Event organization Artists in the World Events https://www.artintheworld.net/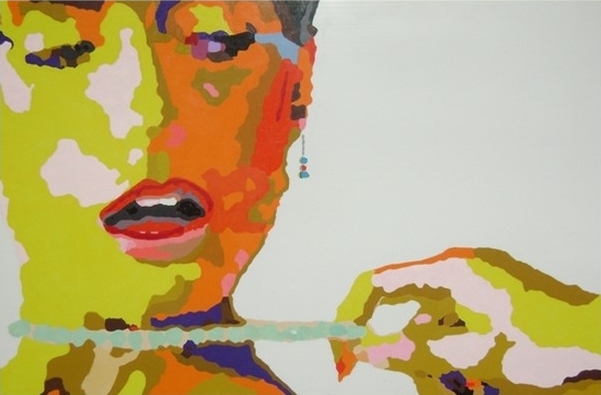 A seguito dell'eccellente successo della precedente edizione Artists in the World Events propone ai migliori Artisti italiani e stranieri l'inserimento delle proprie opere nelll'Edizione 2023-2024 della prestigiosa
ENCICLOPEDIA DEI CONTEMPORANEI DELL'ARTE
Puoi vedere i dettagli qui:
versione italiana
Following the excellent success of the previous edition Artists in the World Events proposes to the best Italian and foreign artists the inclusion of their artworks in the 2023-2024 Edition of the prestigious
ENCICLOPEDIA DEI CONTEMPORANEI DELL'ARTE
You can see the details here:
english version
Suite à l'excellent succès de l'édition précédente, Artists in the World Events offre aux meilleurs artistes italiens et étrangers l'inclusion de leurs œuvres dans l'édition 2023-2024 du prestigieux
ENCICLOPEDIA DEI CONTEMPORANEI DELL'ARTE
Vous pouvez voir les détails sur notre site Web:
version française